Welcome to Greenwood Country Inn Guesthouse.
Relax and unwind in our beautifull Chalet style B&B with log accents and many view decks.
Experience elegant Pemberton accommodations, Country living and warm hospitality at it's finest. English and German Spoken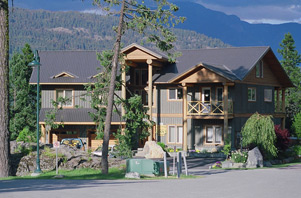 Come to our mountain paradise for the views, the great outdoors and perfect bird and sky watching! Stay for the delightful hospitality, comfy accommodations and delicious breakfasts. Our bed and breakfast if perfect for that special occasion, soaking up what Whilstler/Blackcomb has to offer or even if your simply travelling through, we are sure that you'll remember this scenic spot forever.....
Our Bed and Breakfast is located just around the corner from Whistler/Blackcomb in the scenic city of Pebmerton BC. Cross country and downhill skiing are only 25 minutes away, world class snowmobiling or even try our local Heli-ski Company for an unforgettable day of fresh powder tracks. The Pemberton area offers some of the best winter activities in North America.
But don't just take our word for it!
Read what our German speaking guests said about their stay
4 luxurious rooms to choose from.
Whether you are relaxing on our decks, in the fireside lounge or enjoying our delicious breakfast, you'll be surrounded by the most incredible B&B Pemberton has to offer. Truly a place for special memories, honeymoon or anniversary, ski vacations @ Whistler or simply soaking in the amazing scenic vista surrounding Pemberton BC. GreenWood Country Inn - Bed and Breakfast is simply a wonderful place of rest & recharge in beautiful British Columbia that you won't soon forget.
If you would like to speak to us directly please free to contact us or simply
give us a call at (604) 894-5607 to get started.