Testimonials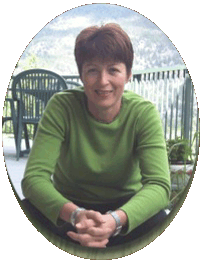 Your hostess Margit de Haan has gathered over 20 years of experience in the hospitality industry, while working in Israel, Colorado, Switzerland and in the Black Forest / Germany, where she also grew up. She enjoys looking after people and to entertain and you can be sure to feel welcome and at home as soon as you enter the Bed and Breakfast.
If you are an expert skier, she might even take you along to her favorite, secret runs on Whistler or Blackcomb Mountain.
I desire to make your stay a " We'll be back " experience!.
ON TOP OF THE WORLD B&B - GREENWOOD COUNTRY INN Nestled on a bluff high above the village of Pemberton, British Columbia, Canada offering unparalleled views from every direction. Take your breath away beauty!
Enjoy browsing some of our delightful Guest Book entries and comments from past customers and some of our international guests.
What our guests have to say.
Customer Comments
The Greenwood Country Inn is certainly the finest guesthouse on the planet.... ~ Ian Matthew, Vancouver
"Had a super time, everything well thought out, didn't have to ask for a thing. Next time we come to Canada and are in the area, there won't be any queries about where to stay. Perfect!" ~ Dorrington, Worthing, ENGLAND.
"You have a well designed home, with spectacular scenery and you offer first class hospitality, Many thanks" ~ White Rock B.C. CANADA
"Thank you for a warm and comfortable stay and a fabulous breakfast" ~ Boulder Colorado, USA
"Thank you for an extraordinary welcome and 'looking after' during our stay at your lovely home. We enjoyed it very much and appreciate the attention you have to all sorts of small things, which make the difference! All the best of success to you". ~ Carmiel, ISRAEL.
"Thanks for the great week. We have stayed at B&B's in Canada, Alaska and Australia. Yours is one of the friendliest and nicest". ~ Richmond Hill, Ontario.
"Thank you ; your beautiful home made our last night of 'Canada vacation' happy. Pemberton is much more comfortable than our home town". ~ Tokyo, JAPAN.
"WOW! We loved your beautiful house and the lovely welcome and breakfast! We wish you very well and look forward to a return visit. Our daughters would love to stay and live here....us too of course". ~ Melbourne, AUSTRALIA.
"Mahalo, for the wonderful stay, Aloha"! ~ Opihikao, HAWAII.
" Wouldn't be surprised if your place will be North Americas NUMBER ONE B&B one day". ~ California, USA.
"Everything was unbelievable: The room, the house, the town, the mountains and your cooking and help were perfect. We had a great time killing ourselves everyday in the mountains and coming back to the most comfortable bed ever and yummy breakfast in the morning". ~ ICELAND.
" A house is just a house, but your love has turned a B&B into a home for all that visit. Thank you for welcoming us"! ~ Ft .Lauderdale, FLORIDA.
"A truly magical place with the best breakfast in Canada. We certainly enjoyed our stay with you and certainly recommend this place". ~ Essex, ENGLAND.
"We only wanted to spend two nights, but stayed for three. Why? Anyone who knows this place and the hosts, will know the answer". ~ Saarbruecken, GERMANY.
"Thank you for your hospitality, we really enjoyed staying in your beautiful home. Peter's blueberry pancakes rocked the planet"! ~ Glasgow, SCOTLAND.
"Thanks for the good stay, fabulous breakfast and the great piano! I'll send all my family to your place"! ~ Amsterdam, HOLLAND.
"I could stay another week, vie len Dank". ~ Berlin, GERMANY.
"This is a great INN. Awesome room, cute furniture and interior. Super service! We had such a good time. We are happy that by the end of our trip, we were able to stay here". ~ Three travelers from ASIA ( Korea, Japan and Thailand )
If you would like to speak to us directly please free to contact us or simply
give us a call at (604) 894-5607 to get started.